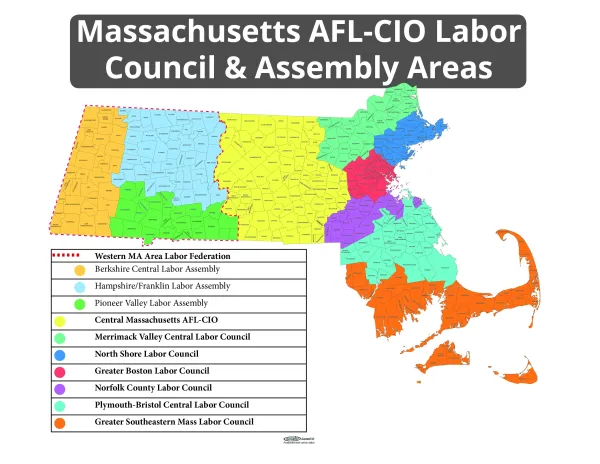 Central Labor Councils (CLCs), Assemblies and Area Labor Federations (ALFs) are the local labor movement of the AFL-CIO. Each body covers a geographic area of Massachusetts.
Unions and union members can take collective action through their local bodies and affect their communities. CLCs, Assemblies and the Western MA ALF provide candidate screening and endorsements as well as support for worker organizing and affiliate members.
Please see below for links to each of our CLCs, Assemblies and our ALF and a list of towns that fall under each body's jurisdiction.
Jeff Jones, President (UFCW 1459)
413-387-9194
jjones@ufcw1459.com
Please contact the Western MA ALF for regular meeting information. 
In 2019, delegates of the Pioneer Valley, Hampshire/Franklin, and Berkshire Central Labor bodies voted overwhelmingly to join efforts and form the Western Massachusetts Area Labor Federation. This strategic move has brought new energy to the Western Mass labor movement.
Berkshire Central Labor Assembly
Brian P. Morrison, President (SEIU 509).
Contact: 413-281-3223 or brianp56@nycap.rr.com 
Monthly Meetings held on the last Saturday of every month, 9:00AM, at IUE Local 255, 789 Tyler Street, Pittsfield, MA 01201. 
Towns Represented: Adams, Alford, Becket, Cheshire, Clarksburg, Dalton, Egremont, Florida, Great Barrington, Hancock, Hinsdale, Lanesborough, Housatonic, Lee, Lenox, Monterey, Mount Washington, New Ashford, New Marlborough, North Adams, Otis, Peru, Pittsfield, Richmond, Sandisfield, Savoy, Sheffield, Southfield, Stockbridge, Tyringham, Washington, West Stockbridge, Williamstown & Windsor
Patrick Burke, President (UFCW)
Contact: president@hampfrankclc.org
Monthly Meetings held on fourth Tuesday of every month, 5:30PM, at Pioneer Valley Workers Center, 20 Hampton Ave, Suite 200, Northampton, MA
Towns Represented: Amherst, Ashfield, Belchertown, Bernardston, Buckland, Charlemont, Chesterfield, Colrain, Conway, Cummington, Deerfield, Erving, Gill, Goshen, Granby, Greenfield, Hadley, Hatfield, Hawley, Heath, Leverett, Leyden, Middlefield, Millers Falls, Monroe, Montague, New Salem, North Amherst, Northampton, Northfield, Orange, Pelham, Plainfield, Rowe, Shelburne, Shutesbury, South Amherst, South Deerfield, South Hadley, Sunderland, Turners Falls, Ware, Warwick, Wendell, Westhampton, Whately, Williamsburg & Worthington
Fiore Grassetti, President (Ironworkers, Local 7)
Contact: 413-732-7970 or mail@pvaflcio.org
Monthly Meetings held on third Wednesday of every month, 5:30PM, at 640 Page Boulevard, Springfield, MA 01104
Towns Represented: Agawam, Blandford, Brimfield, Chester, Chicopee, East Longmeadow, Easthampton, Granville, Hampden, Holland, Holyoke, Huntington, Longmeadow, Ludlow, Monson, Montgomery, Palmer, Russell, Southampton, Southwick, Springfield, Tolland, Wales, West Springfield, Westfield & Wilbraham
Joseph P. Carlson, President (USWA)
Contact: 508-832-4218 or jcarlson@usw.org
Monthly Meetings held on the first Thursday of every month, 7:00PM, at Leo's Ristorante, 11 Leo Turo Way, Worcester, MA 01604.
Towns Represented: Ashburnham, Ashby, Ashland, Athol, Auburn, Ayer, Baldwinville, Barre, Berlin, Blackstone, Bolton, Boylston, Brookfield, Charlton, Clinton, Cochituate, Cordaville, Devens, Douglas, Dudley, East Brookfield, East Douglas, East Pepperell, Fiskdale, Fitchburg, Framingham, Gardner, Gilbertville, Grafton, Groton, Hardwick, Harvard, Holden, Holliston, Hopedale, Hopkinton, Hubbardston, Hudson, Jefferson, Lancaster, Leicester, Leominster, Lunenburg, Marlborough, Maynard, Mendon, Milford, Millbury, Millville, Natick, New Braintree, North Brookfield, Northborough, Northbridge, Oakdale, Oakham, Oxford, Paxton, Pepperell, Petersham, Phillipston, Princeton, Rochdale, Royalston, Rutland, Sherborn, Shirley, Shrewsbury, South Ashburnham, South Lancaster, Southborough, Southbridge, Spencer, Sterling, Stow, Sturbridge, Sudbury, Sutton, Templeton, Townsend, Upton, Uxbridge, Warren, Wayland, Webster, West Boylston, West Brookfield, Westborough, Westminster, Whitinsville, Winchendon & Worcester
Darlene Lombos, Executive Secretary Treasurer Elect
Contact: 617-723-2370 
Monthly Meetings held on the second Tuesday of every month, 6:30PM, at IBEW Local 103, Dorchester.
Towns Represented: Arlington, Belmont, Boston, Brookline, Cambridge, Chelsea, Everett, Lexington, Lincoln, Malden, Medford, Melrose, Needham, Newton, Revere, Somerville, Stoneham, Waltham, Watertown, Wellesley, Weston, Winchester, Winthrop & Woburn
Lisa Lemieux , President (MTA)
Contact: 508-992-5475 or clcpresident@verizon.net
Monthly Meetings held on the 3rd Monday of every Month, 6:30PM, at 560 Pleasant St. New Bedford, MA 02740.
Towns Represented: Acushnet, Aquinnah, Barnstable, Bliss Corner, Bourne, Brewster, Buzzards Bay, Chatham, Chilmark, Dartmouth, Dennis, Dennis Port, East Dennis, East Falmouth, East Harwich, East Sandwich, Eastham, Edgartown, Fairhaven, Fall River, Falmouth, Forestdale, Freetown, Gay Head, Gosnold, Harwich, Lakeville, Madaket, Marion, Mashpee, Mattapoisett, Monomoscoy Island, Monument Beach, Nantucket, New Bedford, New Seabury, North Dartmouth, North Eastham, North Falmouth, North Lakeville, North Seekonk, North Westport, Northwest Harwich, Oak Bluffs, Ocean Grove, Onset, Orleans, Pocasset, Popponesset, Popponesset Island, Provincetown, Rehoboth, Rochester, Sagamore, Sandwich, Seabrook, Seconsett Island, Seekonk, Siasconset, Smith Mills, Somerset, South Dartmouth, South Dennis, South Yarmouth, Swansea, Teaticket, Tisbury, Truro, Vineyard Haven, Wareham, Wellfleet, West Chatham, West Dennis, West Falmouth, West Tisbury, West Wareham, West Yarmouth, Westport, Weweantic, White Island Shores, Woods Hole & Yarmouth
Paul Georges, President (United Teachers of Lowell)
Contact: 978-441-1939 or tom.raiche@gmail.com
Monthly Meetings held on the first Thursday of every month, 6:00PM, location alternates between Lowell (Office of UTL 169 Merrimack Street, Lowell 4th Floor) and Lawrence (Heritage State Park, 5 Jackson Street, 3rd Floor, Lawrence).
Towns Represented: Acton, Amesbury, Andover, Bedford, Billerica, Boxborough, Boxford, Burlington, Carlisle, Chelmsford, Concord, Dracut, Dunstable, Georgetown, Groveland, Haverhill, Lawrence, Littleton, Lowell, Merrimac, Methuen, Newbury, Newburyport, North Andover, Pinehurst, Rowley, Salisbury, South Groveland, Tewksbury, Tyngsborough, West Concord, West Newbury, Westford & Wilmington
Robert Rizzi, President (IBAC)
Contact: 781-405-9193 or rlrizzi@comcast.net
Monthly Meetings held on fourth Monday of every month at Utility Workers Union of America Local 369 at 120 Bay State Drive in Braintree.
Towns Represented: Bellingham, Braintree, Canton, Cohasset, Dedham, Dover, Foxborough, Franklin, Medfield, Medway, Millis, Milton, Norfolk, Norwood, Plainville, Quincy, Sharon, Walpole, Westwood, Weymouth, Wollaston & Wrentham
Adam Kaszynski, President (IUE Local 201)
Contact: 781-595-2538 or northshorelaborcouncil@gmail.com
Monthly Mettings held on fourth Wednesday of every month, 7:00PM, at IUE Local 201 Hall, 112 Exchange Street, Lynn, MA.
Towns Represented: Beverly, Danvers, Essex, Gloucester, Hamilton, Ipswich, Lynn, Lynnfield, Manchester-By-The-Sea, Marblehead, Middleton, Nahant, North Reading, Peabody, Reading, Rockport, Salem, Saugus, Swampscott, Topsfield, Wakefield & Wenham
Plymouth/Bristol Central Labor Council
Jim Pinkham, President (UWUA, Local 369)
Contact: 781-771-5534 or jpinkham@uwua369.org
Monthly Meetings held on third Thursday of every month (except July and August), 6:00PM, 50 School Street, Brockton. 
Towns Represented: Abington, Attleboro, Avon, Berkley, Brant Rock, Bridgewater, Brockton, Carver, Dighton, Duxbury, East Bridgewater, Easton, Green Harbor, Halifax, Hanover, Hanson, Hingham, Holbrook, Hull, Kingston, Mansfield, Marshfield, Middleborough, North Attleborough, North Pembroke, North Plymouth, North Scituate, Norton, Norwell, Ocean Bluff, Pembroke, Plymouth, Plympton, Randolph, Raynham, Rockland, Scituate, South Duxbury, Stoughton, Taunton, West Bridgewater & Whitman