The Massachusetts AFL-CIO Political Program helps to elect candidates who believe the working people of Massachusetts should share in the prosperity of the Commonwealth. This requires identifying candidates who will protect rights, invest in infrastructure and defend government as essential to the public good. Our efforts are led by the Committee on Political Education (COPE), which includes the Executive officers, the Executive Council, and our political and legislative directors. COPE mobilizes and educates union members to vote for candidates who reflect our values of shared prosperity and workers' rights.
Union Member Candidate School
Support for union members running for elected office is a top priority for the Massachusetts AFL-CIO and our affiliates. We know that when our members run on a platform of working people's values and receive unified support from the labor movement, we will win. The Massachusetts AFL-CIO and its Executive Board are establishing a union candidate school to train our members to run for elected office from the local/municipal level all the way up to statewide/federal office.
The first Union Member Candidate School met on December 7, 2019. The 2023 Union Member Candidate School will be held on Saturday, April 29th from 10AM-2PM. It will be held at Plumbers & Gasfitters Local 12, 1240 Mass. Ave., Dorchester, MA 02125. Sign up at tinyurl.com/MAAFLCandSchool. 
Voter Registration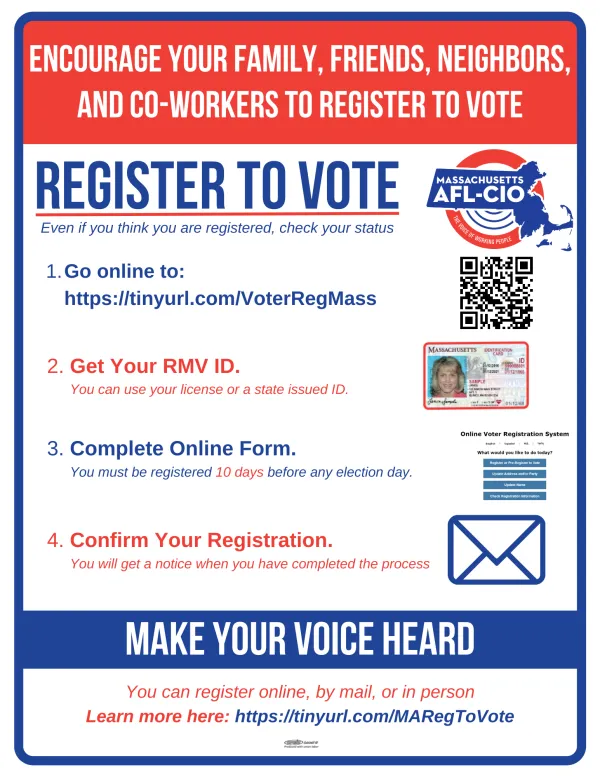 COPE Program
The COPE Committee uses strict criteria to endorse and help elect candidates for the state legislature, statewide constitutional offices, the U.S. House, and the U.S. Senate. The COPE Committee also endorses ballot issues. 
Other factors that are considered include whether a candidate has introduced or testified on behalf of key legislation, whether they have made remarks supportive of unions and working people during floor debates, and whether they have participated in pro-union and working family activities such as walking picket lines or writing letters of support.
Candidates running for county or municipal office are not considered by the state COPE and must seek endorsement through the Central Labor Councils, which have jurisdiction over local and county races.
Political Education and Action By and For Working People
Once selected, the Massachusetts AFL-CIO supports endorsed candidates or ballot issues by educating union members via targeted communications highlighting how these candidates and issues will help working people share in the prosperity of Massachusetts and enhance the common good.
Political education programs operate year-round and include compiling and reviewing voting records for all state legislators and the state Congressional delegation. Our efforts ramp up during campaigns when we produce campaign literature, fact sheets, web pages, and other research-based materials to let members know the issues at hand. Our thousands of union activists get out labor's vote through member to member communication including phone banks, canvassing, rallies, mail, email, social media, and one-on-one conversations at the jobsite.