Statement of Massachusetts AFL-CIO President Steven A. Tolman on Passage of "Janus" Legislation in the Mass. House of Representatives
Rachael Running
05 Jun, 2019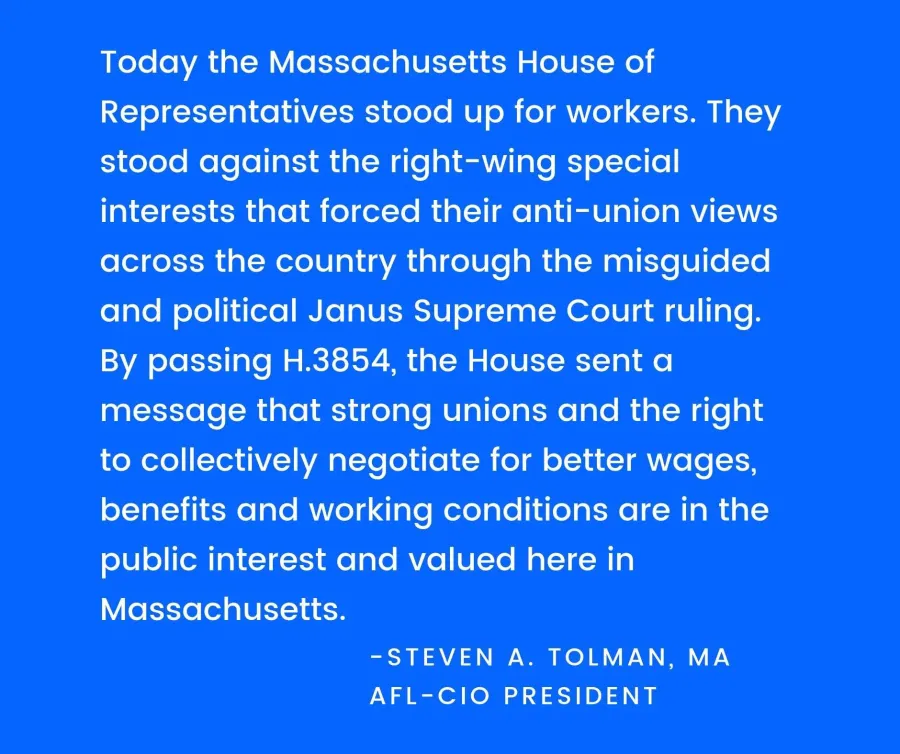 Today the Massachusetts House of Representatives stood up for workers and against the right-wing special interests that forced their anti-union views across the country through the misguided and political Janus Supreme Court ruling. By passing H.3854, the House sent a message that strong unions and the right to collectively negotiate for better wages, benefits and working conditions are in the public interest and valued here in Massachusetts.
This legislation ensures that in the post-Janus landscape, unions will have the tools necessary to effectively communicate with their members while protecting their personal contact information from outside, right-wing interests; meet with newly hired members at their worksites; and charge reasonable fees for the costs of legal representation for non-members. While the Trump Supreme Court's Janus decision is now law, with the passage of this bill, we can ensure that Massachusetts workers have the freedom to join with their co-workers to collectively negotiate for a better quality of life.
We thank Speaker Robert DeLeo and members of House leadership, lead House sponsor Representative Tackey Chan, and Labor and Workforce Development Committee Chairs Representative Paul Brodeur and Senator Pat Jehlen for their hard work and commitment to bring this important bill to the floor for a vote. We urge the State Senate to act on this matter quickly, and for Governor Baker to sign this bill into law so that unions in Massachusetts can continue to provide a better life for our members.